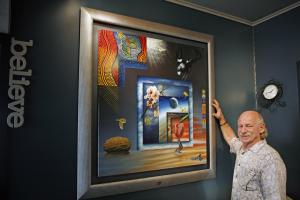 Check out page 38-39 if you want to know a little more about Ian E Anderson.

https://issuu.com/junctionmag/docs/junction_june_2017
A big thanx to Junction Mag - Matakana Coast, Puhoi - Waipu, and Rod (You do an amazing job 😉) Cheeseman....

"Have you ever tried skydiving? You should. It's an absolute sensory overload! I want my work to be like that," Ian Anderson says, as he puts the 'billy' on at his studio in Warkworth.
Originally from Western Australia, Ian has been living in New Zealand since the 1970s.
"At that time you could jump on the boat and easily pop across to meet the cuzzies."
Back then Ian was a product of the hippy counter-culture and fled to New Zealand to escape arrest warrants on drugs charges. The Police in Western Australia took a dim view of his cannabis cultivation whilst at art school.
"I went back and sorted it all out, but at the time I was an angry young man searching for meaning," Ian says.
Ian...